Prize T-shirts, 2006 to Present Photo 30
Sprocket's in Los Gatos has provided the t-shirts for the IVL since 2006. Sprocket's owner Greg Agnelli and graphic designer Josh Lyngar are responsible for the many creative and original t-shirts that each season's winners receive. The Sprocket's logo on the left sleeve is on all of the shirts these days. Adds a nice touch. The IVL purchases all of its equipment from Sprocket's (siliconvolley.com).
In honor of their World Series win, we used the Giants' colors and it became one of our most popular shirts in the history of the IVL.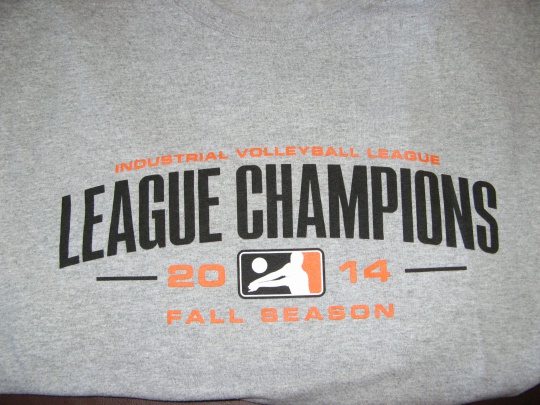 [Download Image]
---
[ Next (Photo 29) ][ Prev (Photo 31) ][ Skip (Prize T-shirts, 1979-2005) ][ Up (Prize T-shirts, 2006 to Present Index) ][ IVL Home Page ][ Gremlins, Unlimited ]
---
Industrial Volleyball League, Inc.
Kirk Anderson, Director
947 Emerald Hill Road
Redwood City, CA 94061
650-365-2666 9am-5pm M-F
650-367-0881 (fax)
ivlinc@aol.com
The IVL Home Page is provided by Paul Sander