Prize T-shirts, 2006 to Present Photo 38
Sprocket's in Los Gatos has provided the t-shirts for the IVL since 2006. Sprocket's owner Greg Agnelli and graphic designer Josh Lyngar are responsible for the many creative and original t-shirts that each season's winners receive. The Sprocket's logo on the left sleeve is on all of the shirts these days. Adds a nice touch. The IVL purchases all of its equipment from Sprocket's (siliconvolley.com).
The Star Wars' look made Winter 2016 one of the more popular shirts in recent times.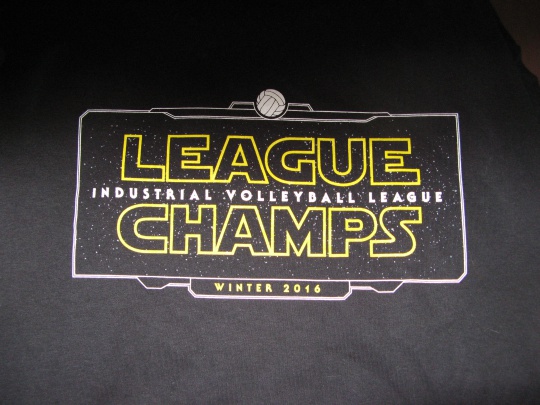 [Download Image]
---
[ Next (Photo 37) ][ Prev (Photo 39) ][ Skip (Prize T-shirts, 1979-2005) ][ Up (Prize T-shirts, 2006 to Present Index) ][ IVL Home Page ][ Gremlins, Unlimited ]
---
Industrial Volleyball League, Inc.
Kirk Anderson, Director
947 Emerald Hill Road
Redwood City, CA 94061
650-365-2666 9am-5pm M-F
650-367-0881 (fax)
ivlinc@aol.com
The IVL Home Page is provided by Paul Sander