Prize T-shirts, 1979 to 2005 Photo 30
The original prize shirts for the IVL playoff winners each season during the years 1979-2005 were provided by David Hirose of Just Volleyball. David did most of the design concept and sketches, Glen Marchant the graphic design artwork and Chris Snowbarger the t-shirt screen printing. These guys did some nice work.
Karch and some of the beach players were wearing fluorescent pink in those days. W.A.V.E. stood for Winter Accelerated Volleyball Event. For a number of years, the Winter Season was strictly an invitational league for playoffs teams from the Fall Season.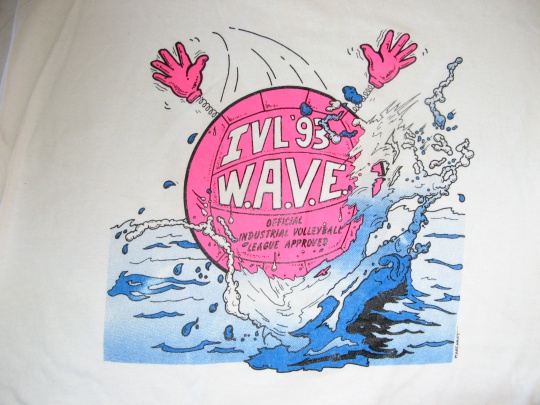 [Download Image]
---
[ Next (Photo 29) ][ Prev (Photo 31) ][ Skip (Trophies) ][ Up (Prize T-shirts, 1979 to 2005 Index) ][ IVL Home Page ][ Gremlins, Unlimited ]
---
Industrial Volleyball League, Inc.
Kirk Anderson, Director
947 Emerald Hill Road
Redwood City, CA 94061
650-365-2666 9am-5pm M-F
650-367-0881 (fax)
ivlinc@aol.com
The IVL Home Page is provided by Paul Sander